Thalassotherapy is the therapeutic use of power of the sea and the marine environment such as algae, mud, sea climate, sea water, sand, plankton, in a preventative and remedial aim under medical supervision.
Heated Seawater Hydrotherapy
An individual exercise program that involves pedalling on a stationary bicycle frame which is submerged in a pool of heated seawater. Body is lighter in water reducing the strain on joints, knees and spinal column. Recommended for those who are eager to say farewell to overweigh, oedema, heavy legs, cellulite and welcome refined waist, toned hip and leg muscles. It also works as a powerful lymphatic drainage, especially on a lower part of the body; enhances cardio-vascular system function and joint health when suffering from arthritis or traumatism.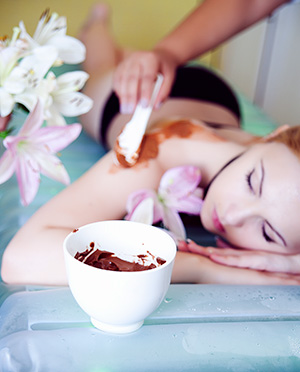 Tunisia is known to be a true treasure trove of essential oils, organic olive oil with undeniable nutritional values for our organism as well as for its numerous sorts of clay used effectively for cosmetic purposes: green, white, red.  At Glamour Thalasso & SPA, we choose the best the local nature can provide to detoxify and revitalize your body.
We only work with certified products.
Clays and sea algae we use for body wraps come in powder form so that we are sure these products are free from preservatives. Water is added to it just before treatment.
High quality essential oils are added to basic oils (olive, argan, sesame oils) by our specialists before treatment as well depending on its properties and a massage type.
Seaweed-based French cosmetics brands in serum or extract form are there for your ultimate facial skin care.